Marathon Training Camp
Posted on 1/31/2012 by sdereski
Marathon Training Camp Yes, that's right, marathon running training camp. An MFPal of mine suggested I write a blog about the Marathon Training Camp I attend. Never thought about doing that, and never wrote a blog before, but here goes. I've attended Dick Beardsley's Marathon Training Camp in Minnesota for 4 years now.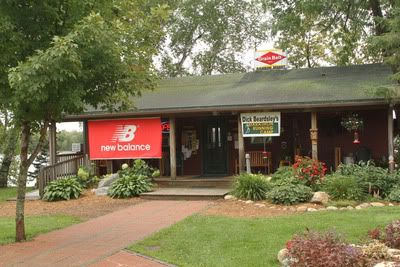 My girlfriends and I went on a lark, but once there, I fell in love. In love with the camp, the campers, coaches and the running drills. Well, it took a few days before I actually "fell in love"; I was scared shitless at first. Felt like I was so out of my league with all these running greats. Honestly, I had never heard of any of them, not even Dick, but I learned quickly. As I read their bios and other campers bios...well! These people were hard core. For example, Coach Bill Wenmark is an 100x marathon runner; ex marine; winner of several gold medals at the world senior games and on, and on and on.To this day, that man continues to set records, shatter records and just do amazing stuff. Not just in running but in cycling and moutain biking.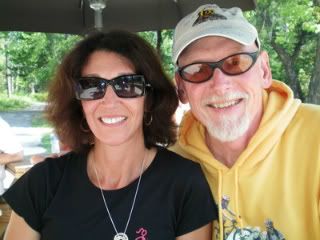 Dick's fame came in 1982 when he ran the Boston Marathon for the very first time. The then world record holder was Alberto Salazar. Dick led the way in that race for 25 miles until Alberto pulled ahead. When Dick realized he was going to come second, he gave it everything he had and almost caught him. Some say he would have if the police on the motorcycle had not cut him off. It ended with Alberto & Dick shattering the world record. Alberto to win with a 2:08:50 and Dick to place second with 2:08:52. Alberto was gracious enough to share that win with Dick and today they are still good friends. A book has been written about this race "A Dual in the Sun", with a movie to come out shortly. Once there, everyone was so welcoming, supportive and encouraging. At the end of that first week, I knew I would go back again. The first year I was there, one of the regular coaches did not attend camp due to illness. The second year I attended, he was back. I now have the pleasure of calling Joe Henderson my friend. He was also my first camp crush. I love that man!! No one has written more about running than Joe Henderson. Not only was he Editor of Runner's World for many years, but he has, and continues to write books about running. He has to be one of the most knowledgeable people when it comes to running. He still coaches runners in his home state of Oregon and comes to Dick's camp to coach us and share his wisdom & knowledge. We are also very lucky to enjoy a "run with Joe" every year. I also have to mention the year I ran the Napa Valley Marathon, Joe Henderson was there and made sure he was at 5 different spots along the route to cheer me on. Now, how lucky can a girl get?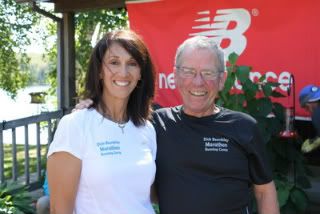 Each year they have a guest coach attend and give us a talk. The first year I attended, Patti Cantalano-Dillon was our guest. Again, I had never heard of her but at one point, this lady held the Woman's World Record for the 10k, half marathon and full marathon.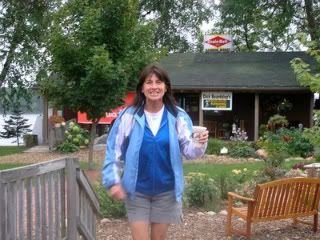 The second year I attended, Bart Yasso was the guest coach. I had heard of Bart and Yasso's 800s, but had never met him. When I did, I was smitten. Yup, my second camp crush. lol. His talk was amazing and an inspiration for mine when I was invited to speak at our local Rotary Club about my running. Bart says "never limit where running can take you." So true. The highlight of that week was finishing my half marathon and just before the finish line, Dick Beardsley recognizes me and shouts out a "go Sil go!" and as I cross the finish line, Bart Yasso announces "here comes Silvana Dereski, from Wawa, Ontario". Just couldn't get any better than that.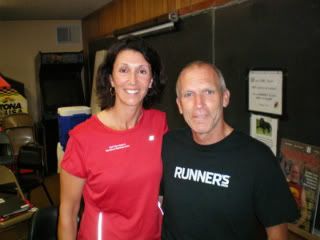 The third year I attend, the special coach guest was Katherine Switzer. Katherine made history when she ran the Boston Marathon with a bib#, the first woman to ever do so, and unbeknownst to the race organizers. When they did find out, the race director literally tried to pull her out. I had met Katherine at different marathons and always enjoyed chatting with her, however, I had never heard her give her "talk". Her talk brought me to tears. She has made it her life's work to promote women in running. It is because of people like her that there are now more female marathon runners than male - we sure have come a long way, and great part of that is thanks to Katherine - a true "Marathon Woman".
This year, we had several special guests. We were so lucky to have Dick Beardsley's coach and mentor, the infamous Bill Squires give a talk. He was quite entertaining. When talking about training Dick and Dick wanting to take a day off because it was such a bad snow storm, Bill Squires yells "Day off?! Day ON!" lol. No day off for bad weather, unless there was ice - "don't run when its icy, cause ice is a killa".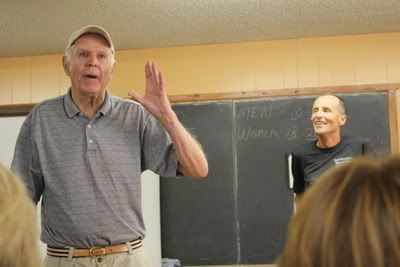 As well as Bill Squires, we were honoured to have US Olympians Chris Robinson and Carrie Tollefson visit the camp. Carrie does a TV series "Get After it" and featured fellow Minnesota athlete Dick Beardsley and his camp in one of her series.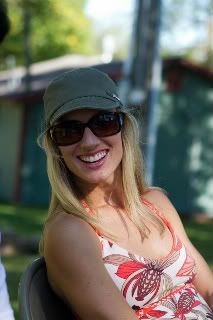 It's not all running, there are lectures throughout the day - all different topics related to running to help us become better runners.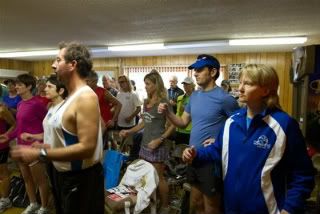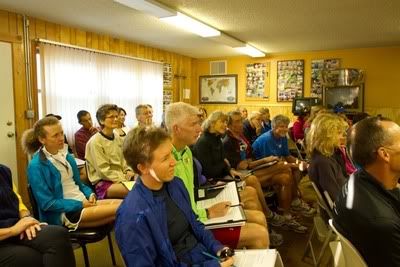 The coaches are very accomplished, not only as athletes, but in their feild of study. Mary Cordt holds a Master's degree in Nutrition and is also a 4x US Marathon Woman Olympic Qualifier. She speaks about fueling our bodies so they run efficiently for us.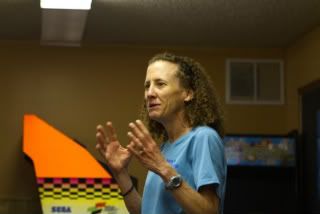 The week is filled with daily running drills, talks and just plain ol' getting to know you time. We do speed work….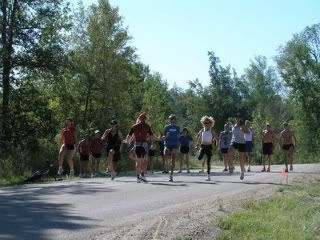 hill training…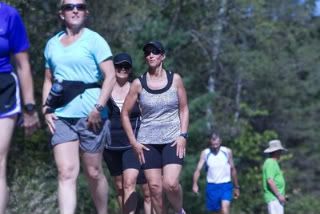 we work on our form…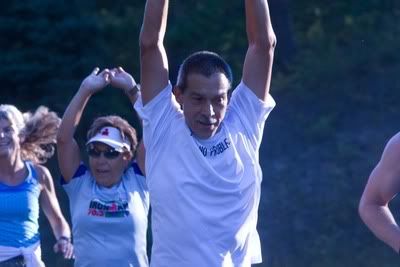 our stride.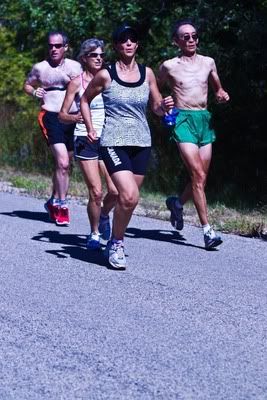 I've learned what terms like "cadence" and "turn over rate" mean and what they should be when running distance races. We learn to run negative splits and recovery runs.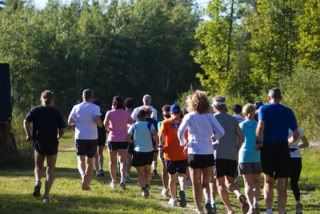 But...before we do any of that stuff we warm up. Our warm ups are lead by Coach Bill Wenmark who is also a certified fitness coach and yoga instructor. Yup, downward dogs, planks, warrior ones, etc.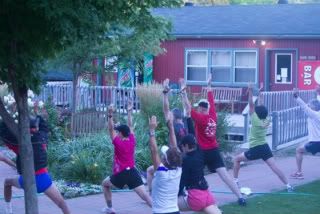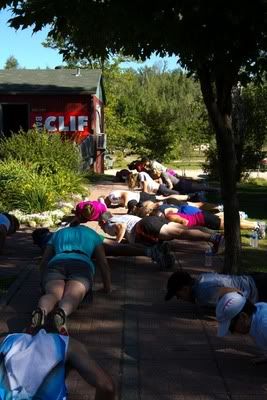 We stay in shared cabins, so often you are sharing a cabin with someone you are meeting for the first time, and soon become life long friends. I have met up with some of my camp friends at different marathons, or just to meet u and spend some time together.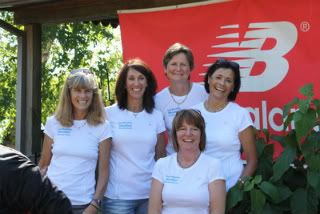 The week ends with all campers taking part in the Dick Beardsley Half marathon or 5km race in Detroit Lakes. We all car pool (Mama Jan - the lady that actually runs the camp) organizes us all into groups and away we go.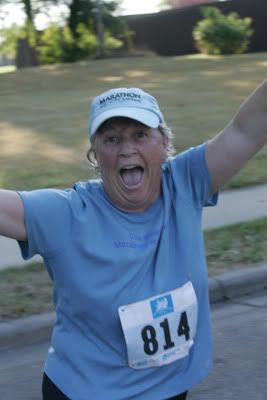 We arrive at the race ready to run. Some of our coaches run as well, others ride their bikes and check on all of the campers. They are great support along the way - keeping us focused on our form, stride, cadence, and turn over rate, etc.
Coach Joe Henderson is always at the finish line waiting for all of us to finish. As we come in, some of us wait; others go back out on the course for the "tail gunners" as Coach Bill says.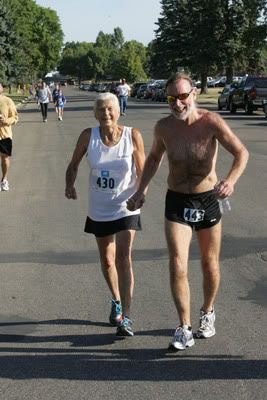 We always take a post race pic of all the campers that have successfully finished their runs, with many of them winning their age group categories.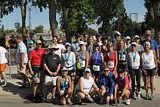 On our way back to camp - we make one stop - the liquor store! Head back to camp, clean up and enjoy some refreshments, a campfire and our last night at camp together.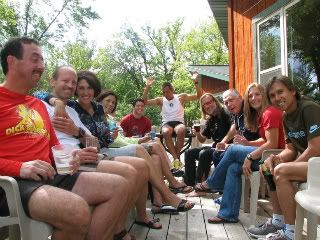 It's a place that I love. A place I count the days before I can return - to see my friends and look forward to making new ones, and to learn at least one new running tip. I am inspired by the other runners and work hard to become a better one.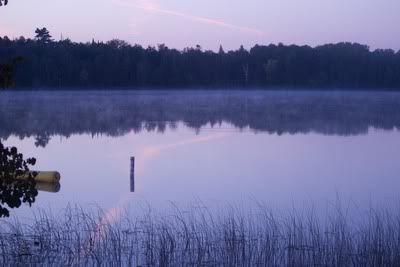 As we say at camp - we came to camp to become better runners, we left better people
.
10 comments: