Product reviews are good enough to tell us what a product does and where they are available. But consumer reviews have a much more personal side to it. Since they are written by someone like you and me, they seem much more reliable.

That is why I decided to write this detailed xenadrine review.
What Is Xenadrine?
Xenadrine is a weight loss supplement that was first introduced back in 2008. Although called as a supplment, this does not work like your ordinary supplements. Firstly, they cannot be taken on a regular basis like your vitamin supplements. Secondly, it serves the very specific purpose of helping you lose weight by controlling your appetite.
Why was it banned first?

Xenadrine was not banned, one of its ingredients, Ephedrine was banned by the FDA in 2005, but the makers were quick to react and they quickly altered their formula to replace the Ephedrine with other ingredients.

Soon, they launched two new products, Xenadrine NRG and EFX, with new formulas that worked equally well, if not better than the original one.

In addition to this, Xenadrine pills ensure you don't run short of the energy you need for your daily activities. Xenadrine pills have been formulated with ingredients that are meant to make you feel energetic even while you eat less! What the official website of Saba says about Xenadrine is not at all untrue, but you know it isn't enough to convince you to use these.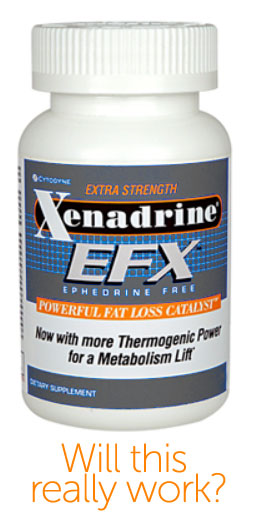 Hence consumer reviews play a very important role here. They not only tell you how the product worked for the individuals concerned, but also help you know the side effects, the taste, smell and dosage of the pills.

After reading a few reviews, you could be sure of using Xenadrine.
Of course, your own experience will help you even better! For e.g. my personal experience wasn't very pleasant using this product.
Xenadrine Side Effects
I suffered a lot of side effects, and if you are really going to do this, I advise you to look up some common Xenadrine side effects to see if you are prone to suffer from any of them.
The things I suffered from were :

• Jitteriness
• Bloating
• Palpitation
• Dull headaches
• Irritability
• Pain in lower abdomen

Some consumer reviews talk about their own alterations to the dosage and its effectiveness. For example, some people say that since Xenadrine contain some amount of caffeine, they prefer not to take the first dose during breakfast (while having coffee).
Also they consider breakfast to be the most important meal and so they want it to be a full meal. Instead they have a pill an hour before lunch so that this meal can be a lighter one.
And they cut down on caffeine by reducing their tea or coffee intake for the rest of the day. Now you all know the benefits of caffeine, don't you? Maybe I'll do a post on it specifically some other time.
There are some who think it makes sense to take the first dose in the morning before breakfast because the caffeine content in the pill acts as an effective stimulant, keeping them fresh and awake for a long time.

Many reviews will talk about the pill itself. One of the main ingredients in Xenadrine is raspberry ketones, rich in Vitamin C. The ketones are organic substances found in raspberry extract.

This gives the pills a slight sour smell. Many of us wouldn't mind this smell, but for those who do, it can be a problem. However if you can ignore it, there is nothing else to trouble you.

Actually, there is nothing unpleasant about the smell. Some people may only be a little sensitive to sour smells. While most diet pills have processed caffeine in them, the good news about Xenadrine is that it contains natural caffeine.
So you don't have to worry about any side effects because our body has the capacity to deal with natural caffeine that you find in your tea or coffee. You may have to cut down a little on the amount of tea or coffee you consume in a day to avoid the restlessness that kicks in due to excess caffeine.
Are the pills easy to swallow?
The pills are easy to swallow because they aren't large like some of the antibiotic pills you must have seen.

The real pills are pale colored and can be purchased from the official Saba website.
Many other websites too claim to sell Xenadrine area cheaper rate but you are at a risk of getting the fake ones. They could be dangerous because the ingredients may be adulterated and unsafe. Once you have the right pills with you, the rest of it is easy.
You are only a few weeks away from a slimmer body.
Yes, it actually works that rapidly. But you need to understand that it only helps you lose weight and no one has claimed that you can have a toned body. For that, you will need to start working out.

The bottle of Xenadrine contains 60 pills which lasts a month. It is recommended that you shouldn't take more two pills a day, but even one is good enough.

In addition to these 60 pills you also receive 7 sample packs of two pills each. When everyone is talking about it, giving it a try can never be a bad idea!