A few months ago, my friend Jordan put out a call for pacers for this race:
http://www.mountainmadness.ca/fatdog.php
The tagline of this race is "Just Short of Everest". Over 120 miles, a runner will climb 8,672.7 meters (the elevation of Mt. Everest is 8848 meters). So, this is serious business. It has been listed as one of the 10 toughest ultras in the world, and is the 2nd toughest in North America, only surpassed by Hardrock 100. It takes place in E.C. Manning Park, in British Columbia. This race is a killer, but its also one of the more beautiful places you could ever run. I jumped at the chance to pace this course.
So what does pacing entail? Why do ultra runners even need pacers?
Well, remember, 120 miles is a hella long way. We're talking 30+ hours of running. No sleep, constantly moving, trying to get up Mt. Everest. People can get a little screwy. Pacers are there to make sure that the runner isn't in danger. You make sure they eat, try to keep them to their schedule. You keep them together, keep them moving, keep them from quitting. You talk to them while they are crying while walking uphill. If they are too far gone, you keep them alive until you get to an aid station so you can drop out. You tell them they are doing well. How exactly you go about doing this depends on your runner, so you better know them well (are they they kind of person who wants quiet encouragement, or do they need you to keep talking about something, ANYTHING, so they don't have to think about how much their feet hurt?). The most important thing to remember about pacing is this: IT IS NOT ABOUT YOU. No matter what problems you might be having, you don't get to bitch about it. Obviously you have to make sure you are eating, and taking care of yourself, but you are there for your runner. You may have to hand feed them canned fish (did it), or give them your socks (yup), or body glide them (what are friends for?) or hand them your caffeinated gels when they start getting a headache at 5am (sigh - yes). You may be cold and terrified and pissy and tired and chafing, but you have to keep that to yourself. You are there to drag their carcass across the finish line come hell or high water. Pacing is a selfless thing. You pay money to run half or a third of a race for someone else. There is no glory in it, it is just something you do because another human needs your help. You don't even get a T shirt. It sounds like a sucker's job (and it kinda is), but it is something I love about ultra running.
So I flew to Portland late Wednesday night (the race started 10am Friday morning, and we had to be in BC to do packet pickup and drop bag sorting by 3pm Thursday). Early Thursday morning, we woke up and headed out with her parents to pick up the another of her pacers, one other runner, and her boyfriend's pacer (her parents rented a giant SUV to accommodate all the people and gear). I kind of love how ultra running is like college- random people just show up and crash on your floor or get in your car. Its nice!
Jordan shared her goals with us.
A goal: Under 36 hours (you get a special buckle).
Super Secret goal: New course record. Old Course record was 33:49
Not mentioned goals: Win the damn race. One has to think if she got the record, she would win.
My portion would be from miles 40-80. Bonnivier Aid Station to Sumallo. Based on the calculated splits, she would see me around 8pm, and I would get 12 hours, through the entire night. We would head up a mountain, then descend in the dark.

The race began at a beautiful river. The runners got onto a bridge, where Jordan nervously waved at us. The gun went off, and they started trucking up the switchbacks.
The next we saw her was at mile 18. Jordan cruised in in 3rd place. She requested a change of shirt, a handheld bottle with three scoops of Hammer Perpetuem (a nutritional suppliment for ultra runners that has a blend of carbs and protein that won't upset the stomach at heartrates below 70% of max). a change of shoes, and some canned herring. Since she didn't want herring on her hands, we took turns feeding it to her. Her toes were also starting to bother her, so as a precaution, she taped them with duct tape.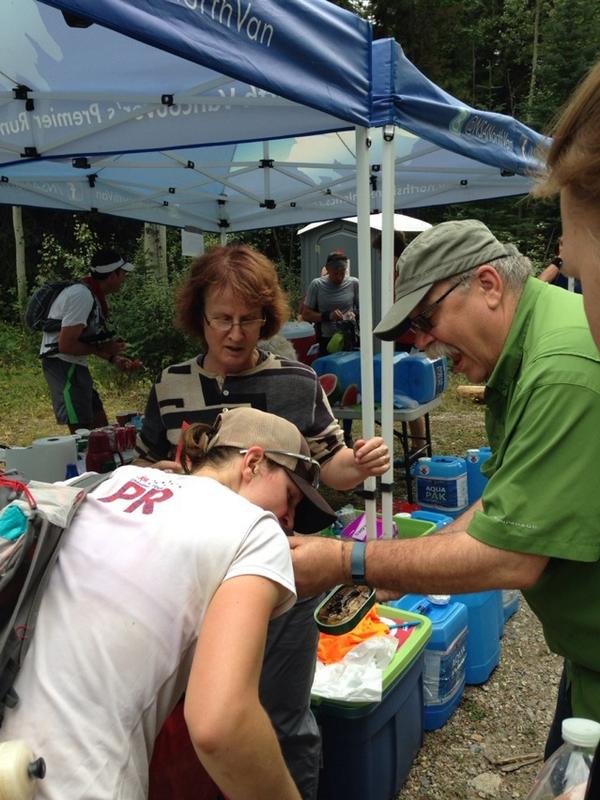 The next crew access point wasn't until mile 40, where I would start running with her. The crew drove there, about an hour and a half ride. On the way we stopped so I could get a hot meal of pasta to fuel myself for the night run. I began to get ready. I wore compression shorts with a mesh overlay, a singlet, a green Saucony long sleeve, white hat, yellow gloves, Balega trail socks (extra padding!), my Garmin (which I knew would only lost 6-7 hours), and a newish pair of Brooks Pure Grit 3 trail shoes. Note: I also had on a Shock Absorber Ultimate Run Sportsbra. I have been looking for a go-to running bra since Under Armour discontinued the Endure. This one was great. 12 hours, no chafing!
I had my Black Diamond headlight, which has a low and high setting. I brought extra batteries in case it pooped out on me before dawn. For fuel, I had my Nathan hydration pack with 2L bladder for water. I also had a handheld that I would fill and pop tabs of Nuun (an electrolyte supplement) into. I had my powergels (tangerine with caffeine). I grabbed some Clif Shots and a Clif bar at the aid station, and planned on eating food at the aid stations along the way.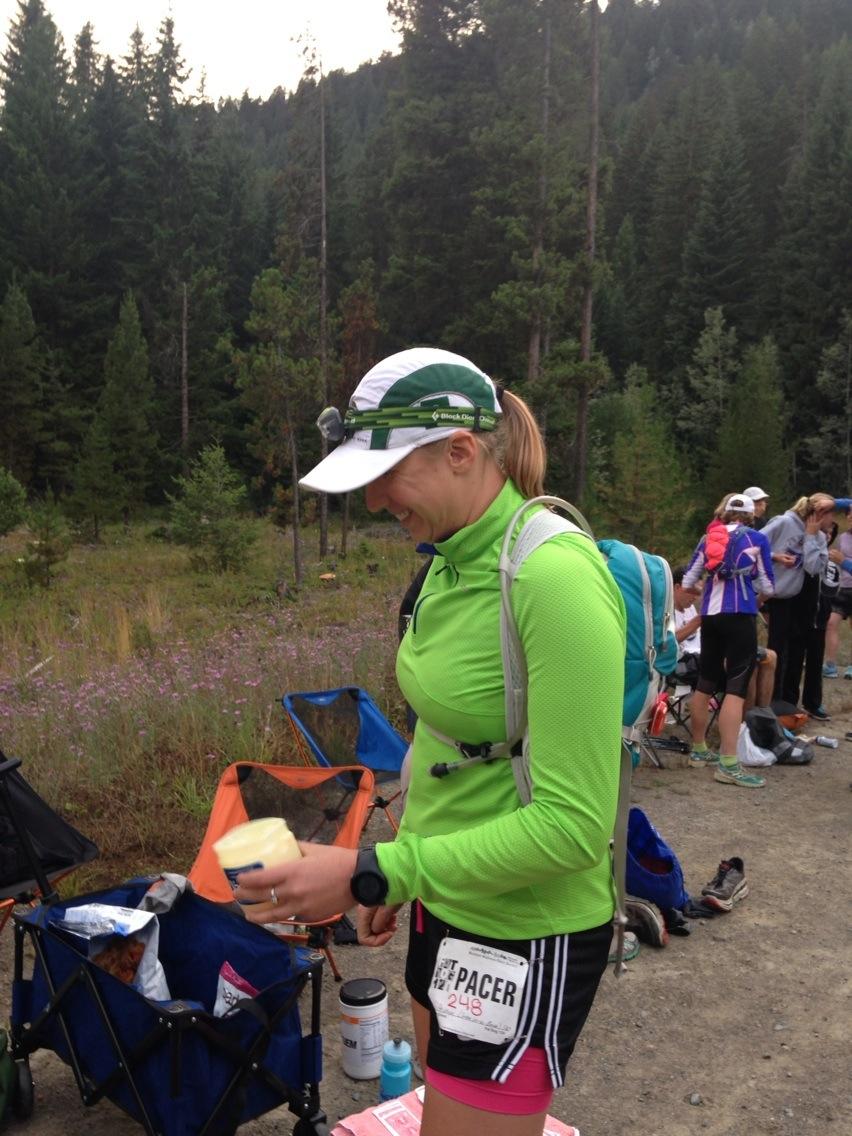 Ready to go as soon as this vaseline gets where it needs to be!
In high spirits, we left the aid station and ran up a wide fire road. I got the scoop on how she was feeling. We were actually moving very well, then took a left onto a single track trail in the forest, and turned on our lights. Our ascent had begun.
The trail was technical. It was narrow. It was on the side of a cliff. It was sloped and overgrown. Pretty difficult, and Jordan started getting angry at it. About an hour in, my light flickered off high, and stayed on low. It wouldn't go back to high, and I was rendered pretty unable to see. I had to lag behind for a bit, tried changing the batteries, but it was a no go. I was starting to get worried about what was going to happen, when Jordan's BF and his pacer came upon me. They had an extra handheld light that they donated, and I was back on. I caught up to Jordan. She was whimpering uphill (a pacer's worst nightmare - I left her alone in the forest and when I got back to her, she was alone and crying). She said "Are we still going uphill? Why do I feel so bad?" I assured her that we were, in fact, still going uphill. It was starting to get foggy. She swore that we had to have missed the aid station. She told me the volunteer said it was 12km away. Thankfully, I had looked at the race guide and knew that it was 12 miles, not 12km. At this she let loose a torrent of curses against the volunteer. They were all "liars" after that. Thankfully, the hill flattned out to more rolling landscape. In a bit, we came to a poriton where the trail was lined with glowsticks, welcoming us into the Heather Aid Station. About 30 seconds later, we both started shaking uncontrollably. It was cold and windy, and once we stopped moving, we got uncomfortable in a hurry. I grabbed us both some veggie broth and got her a quesadilla while the volunteers filled our water bottles. I notice a bottle of Scotch among the offerings, and thought about it for a hard minute before passing (apparently her BF and his pacer both partook). The cold was incredible. The Volunteers had wrapped Jordan in an emergecy blanket while she ate. I shook so hard that I spilled a bunch of water into my Nuun tube while trying to get a tab out. I didn't notice, and closed it. 30 seconds later, it exploded. I had created a Nuun bomb. no more Nuun for me. We both knew that we had to get moving to get warm soon, so we went off into the night. I expect a number of people dropped at that aid station. If you were feeling bad when you got in, staying there would be the nail in the coffin.
The next aid station was about 10-11 miles away, through rolling meadows. Unfortunately, the single track was still narrow and rocky, and pretty unrunable in the dark. It was also super foggy, which made the trail markers hard to see. Jordan started begging for sleep. She started cursing hills. I kept talking to her, saying the aid station was only 5 minutes away (I was a liar too). I kept telling her she was doing great. And she was. She just whimpered and cursed a lot. We hit the next aid station about 3am. They had a nice fire going. Some people were asleep in a hut. There was broth. The temptation to stay was great, but Jordan decided not to nap and to keep going. The volunteer assured us that the descent was 'easy and runnable." Sure, maybe in the light, if you hadn't run 60 miles already. We trotted down, trying not to trip over the frequent tree roots, trying to ignore the steep drop to our right. Slowly, we inched towards sunrise. All of a sudden, going over a few logs of a stream, BAM. My feet went out from me. I slammed into the ground. My light broke and flew into the forest. The darkness around me was complete. Jordan was a about 100meters ahead of me, but in the dark, I couldn't see her at all. I was in real trouble. I sat on the bridge for a while, looking for the light, but it was gone. I only had my weak backup to help me get down the mountain on this treacherous path. I only really had one choice- so I made a plan. I would carefully pick my way down until the sun rose, then I would unleash hell and catch up no matter what. A runner came up behind me, moving quickly. I asked him to tell Jordan what happened when he came across her (he never would, and I would overtake him before I got to her, so she spent the next two hours not knowing where the fuck I was).
As I walked down the path, still slipping every now and then, I tried hard not to go to a dark place. I was failing my friend. I was the world's worst pacer. I was in a dangerous spot and potentially in trouble. She was out there alone. It took a lot to calm my mind down. I couldn't do anything about it, so I just vowed that once I could see, I would be down that path as fast as my legs could carry me. I reminded myself that if she was alone, at least it was on a descent, and she loves downhill as much as I do. Every now and then, I would yell encouragement to the darkness, just in case she could hear me. "JORDAN!!! I'm coming! I'll be there soon! You're doing great!". To my right, a woodpecker went nuts in the darkness. It scared me, but I was so happy, because that meant the sun would rise soon. I reasoned that,a t most, I only had an hour of walking left. Bit by bit, the forest became lighter. I kept turning off my light to check to see if I could get away with it. I started jogging, then running. My shouts became manic. "JORDAN! ITS LIGHT OUT! HERE I COME!" No one has ever been happier to see the dawn. "JORDAN! I'M PHOTOSYNTHESIZING! WE'RE FUCKING MAGIC!" "JORDAN! WHO DOES THIS MOUNTAIN THINK IT IS? DOESN'T IT KNOW WHO YOU ARE??"
I got my footing back and bombed down the mountain. I put on some serious track speed to catch up to her. I hit a log bridge right before the next aid station, and a volunteer said "OMG, you're in second! The lead woman just crossed!" I didn't take the time to explain that I was her pacer, I just processed that we had crawled into first through the night. "JORDAN! YOU'RE IN FIRST! I'M RIGHT BEHIND YOU!". I turned a corner and there she was. "JORDAN! YOU BETTER NOT BE A HALUCINATION!". She started to laugh. I was not the worlds worst pacer! She was in a low, so I started with the happy chatter. I sang "total eclipse of the heart" at the top of my lungs ("every now and then we get a little bit tired of walking up this hill... turn around...every now and then I get a little bit nervous that the last of all my gels has gone by..."). I told her how great her ass looked. I exclaimed that she was in first. She just kept repeating that aid station volunteers lie. I told her that if no woman caught me while I was crawling down the mountain, no one was gonna catch her (I estimate, from the pain in my quads, I was running 7-7:30s down the mountain to catch up- no one was gonna do that at mile 80). I just kept the energy high and ran her into the aid station.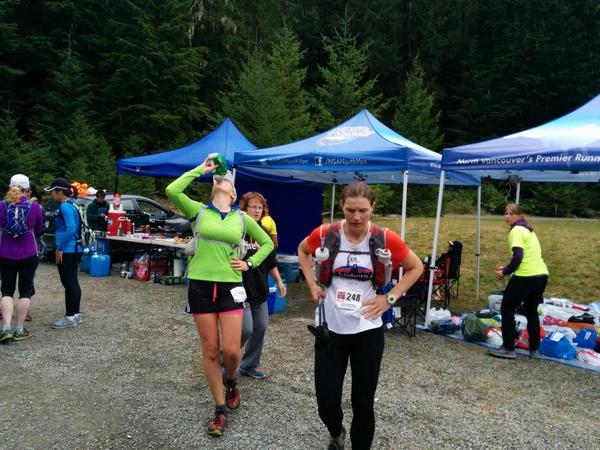 Secret: There's vodka in that bottle.
She changed into shorts, picked up Amy, her new pacer, and took off into a flat section that was infested by mosquitos. I changed, had the medics bandage my knees after my fall, and got some soup. We went to the next aid station. Jordan, still mad at the volunteers for being dirty liars, angrily stomped off into the forest without her pacer, who had to run after her. She insisted she WAS NOT in first (she was. By a lot).
Her parents took me for breakfast, and then we went to the next aid station. I napped for about 20 minutes. I talked with Chandler, her last pacer, about strategy. She had to be pushed, but not too much. She was in first, but if she believed the second place woman was right on her heels, she would keep going. Chandler was responsible for the "skyline" section - 6 gnarly ascents and descents. Her plan? "Yell at Jordan until she crosses the finish line".
Turns out, Jordan didn't need to be yelled at. The fear of god (or the second place woman) was in her. She wanted that win, but hated the pressure of being in the lead. She went so fast, Chandler couldn't keep up. She dropped her pacers at mile 110. When she came into the finish area, we didn't believe it was her. First, she was alone, second, she was way ahead of pace (only 30 minutes behind the course record - only her blistery feet kept her from going for it). Hell, she was running to the finish!!!
the finish line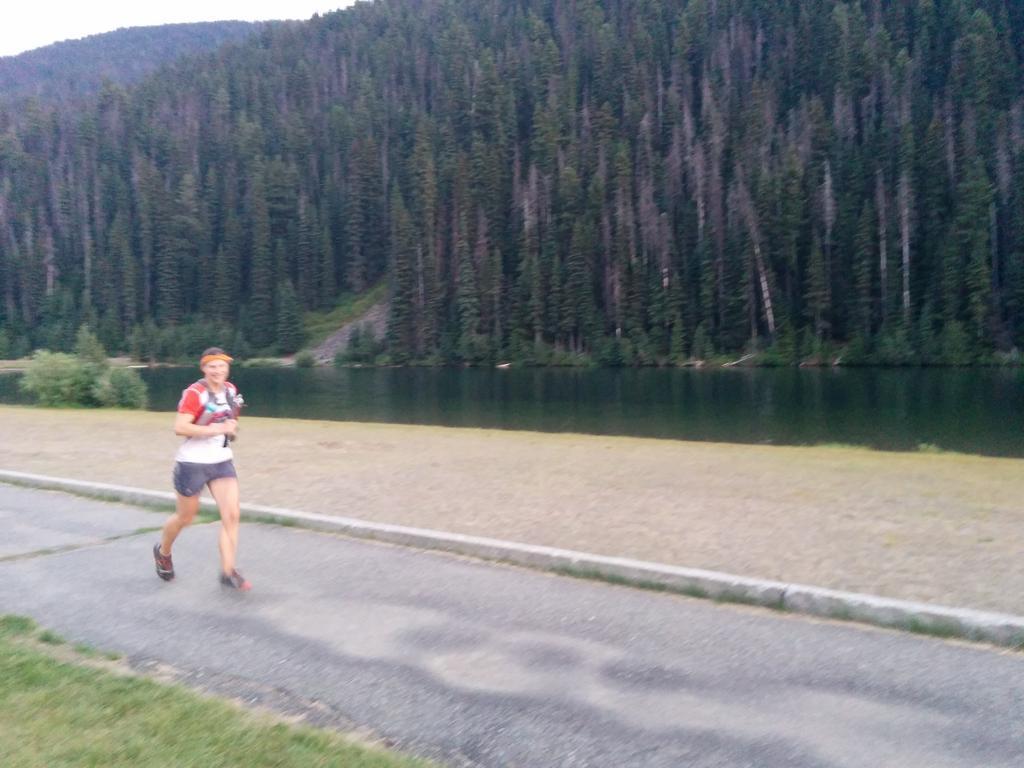 And there it was. Jordan Wirfs-Brock. 1st place woman in a time of 34:19.
It was beastly
I can't wait to do it again.