I was craving alfredo so I whipped up a lighter version of the sauce to eat for lunch. All together it's under 400 calories per serving. Omitting the sausage puts it at a measly 260 calories, but I like the added protein because it's more filling. These vegetarian sausage links are actually pretty high calorie. Next time I'd probably opt for something else, and of course you could use cooked shredded chicken, turkey sausage, or whatever else floats your boat.
You'll need a food processor or blender to make the sauce. It's super easy to whip together, but laughing cow cheese doesn't really melt so blending it is important for getting the sauce creamy.
Creamy Basil Sauce w/ Whole Wheat Pasta, Broccoli & Sausage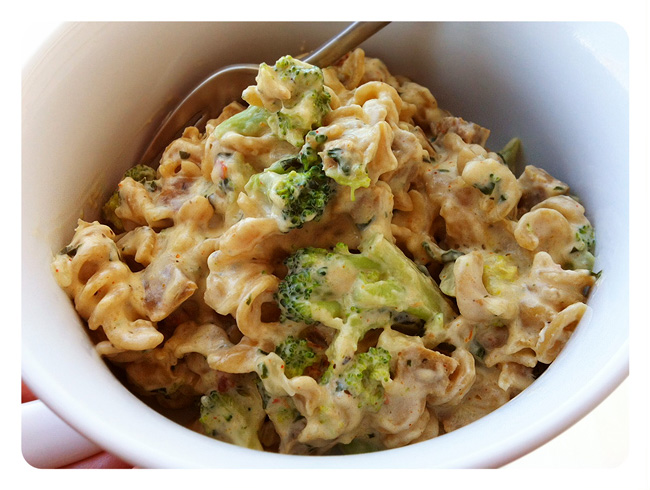 Makes 3 Servings
Sauce:
Laughing Cow Cheese, 3 wedges
Skim Milk, 3/4 cup
Heavy whipping cream, 1/8 cup
Philadelphia fat-free cream cheese, 3 tbsp
Fresh basil, 1 cup
Cayenne pepper, 1/4 tsp
Garlic powder, 1/2 tsp
Onion powder, 1/2 tsp
Salt & pepper, to taste
Pasta:
Whole wheat rotini, 1 1/2 cups
Veggie Italian sausage, 1.5 sausages
Frozen broccoli, 2 cups
Parmesan cheese, 3 tbsp
Blend all sauce ingredients in a food processor until smooth.
Bring pasta to a boil. 2 or 3 minutes before the pasta is fully cooked, put the broccoli into the pot to cook. Strain the pasta and broccoli and return it to the pot.
Add sauce and vegetarian sausage to the pot and mix well. Cook on low heat until warm, then add the parmesan and mix it in well. When the parmesan melts, it's ready to serve.
Note that if you're using non-vegetarian sausage, you should make sure it's fully cooked.