The recipe is adapted from (http://www.kraftrecipes.com/recipes/blueberry-cheese-rolls-106271.aspx) to make them healthier.
Ingredients:
1 pkg. (8 oz.) Reduced Fat Crescent Rolls
4 oz. (1/2 of 8-oz. pkg.) 1/3 Reduced Fat Cream Cheese (Neufchatel Cheese)
2 Tbsp. sugar
1/2 cup blueberries, divided
Directions:
1. Heat oven to 375.
2. Separate the dough into the eight (8) perforated crescent rolls and ball each one up individually.
3. Flatten each dough ball until it's about the same thickness as the original sheet of dough
4. Combine cream cheese and sugar, mix with a spoon until the consistency is similar to icing
5. Spread onto the dough pieces, leaving room at the edges.
6. Top evenly with blueberries.
7. Bring the corners/edges of the dough together, fold over or pinch to close.
8. Bake 11 to 13 minutes, or until golden brown.
Total Calories: 141 per roll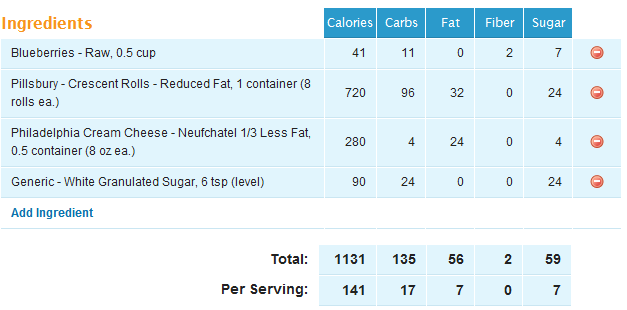 To make this recipe even healthier, you could substitute fat free cream cheese and artificial sweetner-- however, I can't verify how tasty those would be. I CAN tell you that these are absolutely delicious the way I baked them!!!
If you don't want to eat all of them right away, I would suggest cutting down the recipe and only making the amount you need, while saving the leftover dough in the fridge. I don't believe these would re-heat the same, and they are definitely better when fresh and hot out of the oven.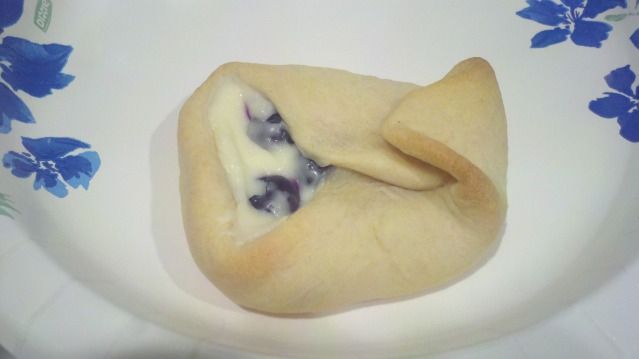 (Not as pretty, but still pretty tasty!)