Here is a recipe that I found on Enlightened Cooking for homemade Clif Bars...Let me just say, they are AWESOME!!
Here is the link...
http://enlightenedcooking.blogspot.com/2008/06/homemade-cliff-bars-no-bake.html
This is the recipe that we used, however there are soooo many different variations!!!
1 and 1/4 cups crisp rice cereal (e.g., I like Erwhon Crisp Brown, but Rice Krispies are fine)
1 cup uncooked quick-cooking oats
2 tablespoons ground flaxseed (flaxseed meal)
1/4 cup finely chopped dried fruit (e.g., raisins, dried cranberries, dried cherries, etc.) (we used Craisens)
1/4 cup finely chopped nuts or seeds (pepitas are great) (we used sliced Almonds)
1/3 cup brown rice syrup
1/2 cup nut butter (preferably natural, well-stirred, but creamy is fine, too) (We used Almond Butter)
1 teaspoon vanilla extract
Optional: 1/2 teaspoon ground cinnamon
Combine the rice cereal, oats, flaxseed meal, dried fruit, and nuts in a large bowl.
Combine the syrup and nut butter in a small saucepan over medium heat, stirring until melted and well-blended (alternatively microwave in small microwave-safe bowl 30-60 seconds until melted). Stir in vanilla until blended.
Pour nut butter mixture over cereal mixture, stirring until coated (use a wooden spoon at first, then get your hands in it. It will be sticky, but this way you can really coat everything. Just scrape off your hands when you're done). Press mixture firmly into an 8-inch square pan (sprayed with nonstick cooking spray) using a large square of wax paper (really tamp it down). Cool in pan on a wire rack and chill at least 30 minutes to help it set. Cut into 12 bars. (Wrap bars tightly in plastic wrap and store in the refrigerator).
Also, we did the math, and it came out to be around .65 each per bar (for 8 bars). The original recipe I think states 12 smaller bars, but we made it into 8 larger sized bars.
Additionally, this cost can go down a lot more if you use generic rice cereal and cheaper almond butter or peanut butter. I think ultimately after a few modifications in ingredients you can easily get these bars down to .40 each (as opposed to $1.00 for a Clif Bar).
ENJOY!!
Here are some pictures of the finished product...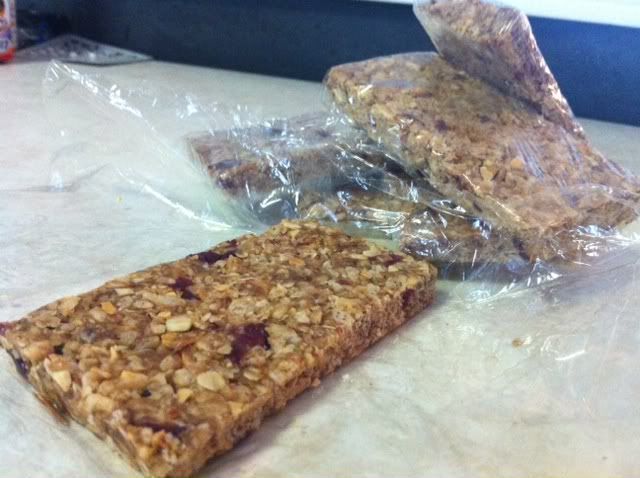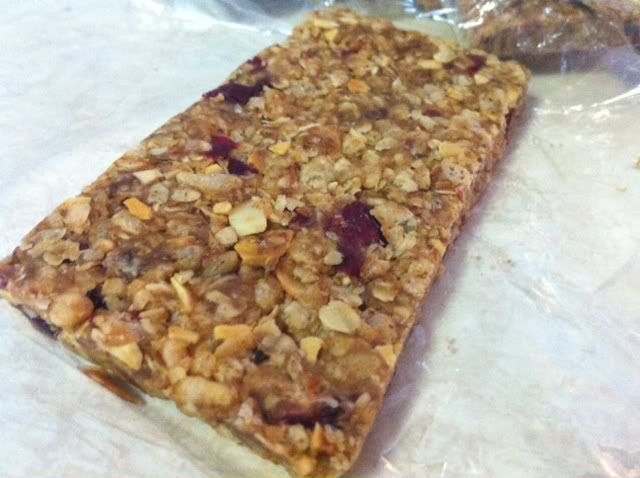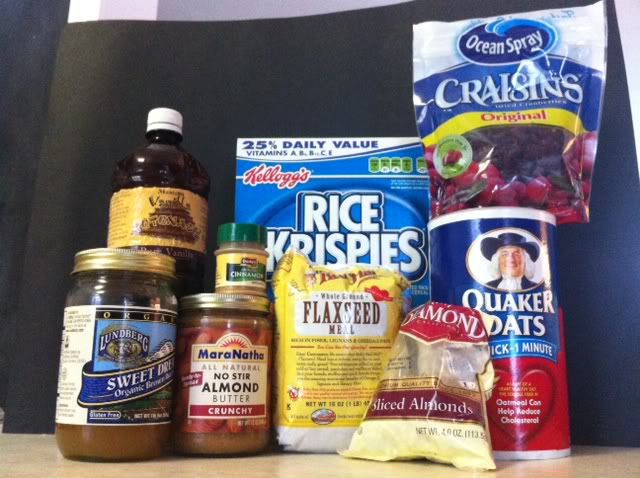 Edited by
polar5554
On
March 5, 2011 8:39 am