Yummy Tuna Patties
Posted on 2013-01-29 by the_green_midget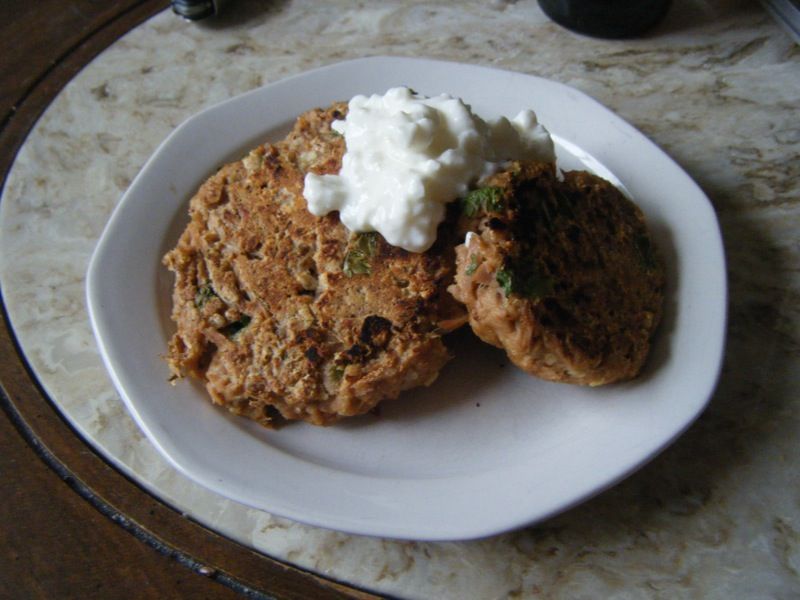 I find that the easiest way to get enough protein in my diet (not that I really get enough protein) is to have a can of tuna once in a while. I have been known to eat it straight out of the can when I'm feeling particularly lazy, but let's face it: tuna on its own is pretty damn boring. For a while I was mixing it with low fat greek yogurt (instead of mayonnaise), a few nuts, maybe some herbs or cut up veggies. I haven't bought greek yogurt in a while, however, so today I decided to mix it up with some stuff I had lying around the kitchen. Thus were born these super tasty tuna patties.
Ingredients
1 can tuna (I used Gold Seal Chunk Light Tuna in broth)
1 egg
2 tbsp instant oats
2 tbsp whole spelt flour
1 tsp whole grain mustard
2 tbsp fresh cilantro
small amount of fat for frying pan (I used a bit of non-stick cooking spray)
Mix everything in a bowl with a fork until it's well-blended. Heat up a frying pan to medium heat and add a small amount of fat for cooking (a couple of sprays of non-stick cooking spray in my case). Form the tuna mixture into patties with your hands and gently place them in the frying pan. I was able to make three approximately 3-inch patties. Cook for 5 minutes on each side. Serve immediately.
I'm not sure if they keep because I just wolfed mine down right away. I topped them with a few tablespoons of cottage cheese. Yum! Here's the nutritional breakdown for all three patties:
Calories: 277kcal
Carbs: 15g
Fat: 9g
Protein: 36g
17 comments: