I turned 35 on Tuesday and never really thought about celebrating my birthday for a whole week, but with great family comes great times. My week started out pretty strong with a great celebration planned by my wonderful wife (I blogged about it on last Sunday). She ordered up Portillo's a Chicago restaurant we go to when we visit her family and invited my whole immediate family over and topped it off with a homemade ice cream cake, yeah I logged every morsal of it. Actually if I think about it, I logged everything I ate this week. I went a little off the cuff with my choices this week, eating the occassional sweet and not regular carbohydrate choice. I got a lot of nice gifts for my birthday, gift cards, cash, Iphone accessories (including the awesome Otter Box) which if you own an Iphone you have to get this case for it, it's practically indestructible. Monday was a normal day, work and then workout with my trainer Jeff. He alerted me to our monthly weigh in which would be on Saturday. I celebrated my birthday again that night by eating another piece of birthday cake. I still came in under calories though.
On Tuesday, my boss was in town and we were traveling up to New Hampshire and then Maine. I knew time would be tight for a workout, so I ran a 5k in the morning. I actually beat my time from Saturday on St. Pats Day (28:52), my now all time best is 27:20. I met up with my boss around 11 am on Tuesday since he was travelling up from Central Jersey and around noon we had lunch at Subway. Usually I bring my own food and we stop, he gets a sandwich and I have what I brought. BIG MISTAKE eating at Subway, cause in our travelling around my territory by the end of the day my eyes starting getting heavy and by the time we hit our hotel in Portland, ME. I wasn't feeling too good. This may be a little tmi, so proceed to the next paragraph if you want. I was shitting like crazy between 5 pm and 6 pm, I must've gone at least 5 or 6 times. At this point I think I got food poisoning. I proceeded to suck it up and go to dinner with my boss. We went to Outback, I had the smallest steak on the menu, a little soup (maybe will help my stomach), and some broccoli. Yeah the soup didn't help, it made me feel worse. When I got back to my hotel, I wanted to get more protein in, so I ate some greek yogurt. I am a fucking glutten for punishment. I continued to feel miserable and fell asleep around 9 pm while watching the Biggest Loser in bed, who got sent home by the way? I woke up on my back at around 1 am. Still didn't feel too good, but said I will sleep it off and took my normal position in bed (on my stomach, with my head to the side, with one arm wrapped around a pillow) Yeah not good cause within 1 minute in this position there was a race back to the bathroom, but this time there was no shitting it was projectile vomiting. I have good aim though cause from the bathroom door I was able to arch it up over the half wall which is 5 feel away and into the toilet. Wasn't perfect, but it could have been alot worse. Wednesday started with me having a splitting headache and couldn't eat anything of substance, I basically skipped breakfast and instead went to the grocery store cause one of my MFP friends said saltines and gingerale would be the way to go. I told my boss about my awesome night and he said he would drive and let me relax, he actually said the night before he would completely understand if I wasn't up to work on
Wednesday, but my work ethic wouldn't let me take him up on his offer. I ate a sleeve of saltines and had a powerade zero and diet sodium free gingerale. Wasn't feeling 100%, but good enough. I managed an Atkins bar at lunch, and another Atkins bar for a snack at 3 pm. I also took Wednesday as a rest day, shit I haven't had one in about 3 weeks or so. At dinner, I had a roasted half chicken (I only ate the white meat) and some veggies. Drank alot of fluids, as I do everyday. Usually I drink plain water, this time I added 64 oz of Power Ade Zero, some vitamin water zero, the diet ginger ale, and some regular water. Thursday starting to feel around 90 percent. I ate my typical foods today, kept everything down.
My visit with the boss went good. I showed him my new IPhone and he asked if I have that talking feature (SIRI) and I said yeah, he said his son was telling him about looking for hookers on it, not that his son did, but just that you could. So I hit the button and said Where can I find some hookers, I guess in Maine they don't have hookers cause it didn't tell us where we could find it. So I proceeded to ask for strippers and it brought me two locations for strip joints, my boss was laughing pretty hard, so to add a cherry no pun intended to the Sundae, I asked it where I could bury a dead body, and it shot back metal foundries, dumps, cremation services, and funeral services. I took another day off from exercise today, since I had no time cause I had to get my taxes done tonight. This was the first time in about a year that I had two days of exercise off in a week. I felt like a slob. And to add insult to injury we have to pay the Fed about $1500. To celebrate my financial downfall, we went out to dinner at Applebees. Awesome dinner, not really.
Friday came and went work was good, got my reports and emails done and it was so beautiful out I couldn't fathom going to the gym, so I went for a run around the neighborhood and followed it up with a chest and core home workout. I did three different types of pushups, normal ones, one where I do elevated on one side by holding a weighted barbell and moving it to the other side and continuing with the pushups, and then more pushups but with my feet up on one of those large balls. Then my wife and I grabbed sushi out and went shopping at Kohl's with my giftcard. Then went home and watched Walking Dead Season 1 Episode 5, we got some catching up to do. We were celebrating my bithday today, by eating my favorite sushi, shopping for more clethes, and watching my latest favorite tv show.
Saturday started at me waking up at my normal 5 am on a weekend. I hate that I do that. I worked out with my trainer weighed in and even with eating out almost everyday I maintained my weight, which is really my plan going forward. I have no weight to lose, just loose skin. He asked me to run on the treadmill for a warm up, I said fuck that, I wanna run the hill. The hill is this hill that is 3/4 mile up hill at about a 30 to 40 degree incline. He said you wanna run the hill, I said Fuck Yes, I miss the hill, haven't been able to run it much this winter. I did the hill and then we did a full body type of workout many muscle groups, light weight and high reps because I was still pretty depleted from being sick and not working out too much during the week. Then my wife and I proceeded to go shopping with giftcards and a 40% coupon at the Reebok store. Have I told you, I am becoming a sneaker whore. I have bought three pairs of sneakers in the last three weeks. Almost bought a fourth pair. We then went out for an early dinner or late lunch at Chili's and I took my soulmate to see the Hunger Games, she wanted to see it so bad. I asked her if it was about Competitive Hungry Hungry Hippos, she lied to me and said it was. Apparently it was a book, that I haven't read. It was good, very predictable though even for someone that didn't read the book. We had some regular movie theatre popcorn and starburst jelly beans. We finished off our day, with homemade pizza and salad. Pizza made with Lavish bread instead of dough, lower calories and carbs that way. Today was a great day, I had my fantasy baseball draft in the morning followed by a nice workout at the gym, my wife went to babys r us to register with a friend of ours. We had a nice lunch of pork shoulder and boiled veggies with my parents and head out to Patriot place to spend some cash and use more giftcards. I love two things, my wife being number 1, followed by giftcards. Here's a pic of one of my favorite outfits, I bought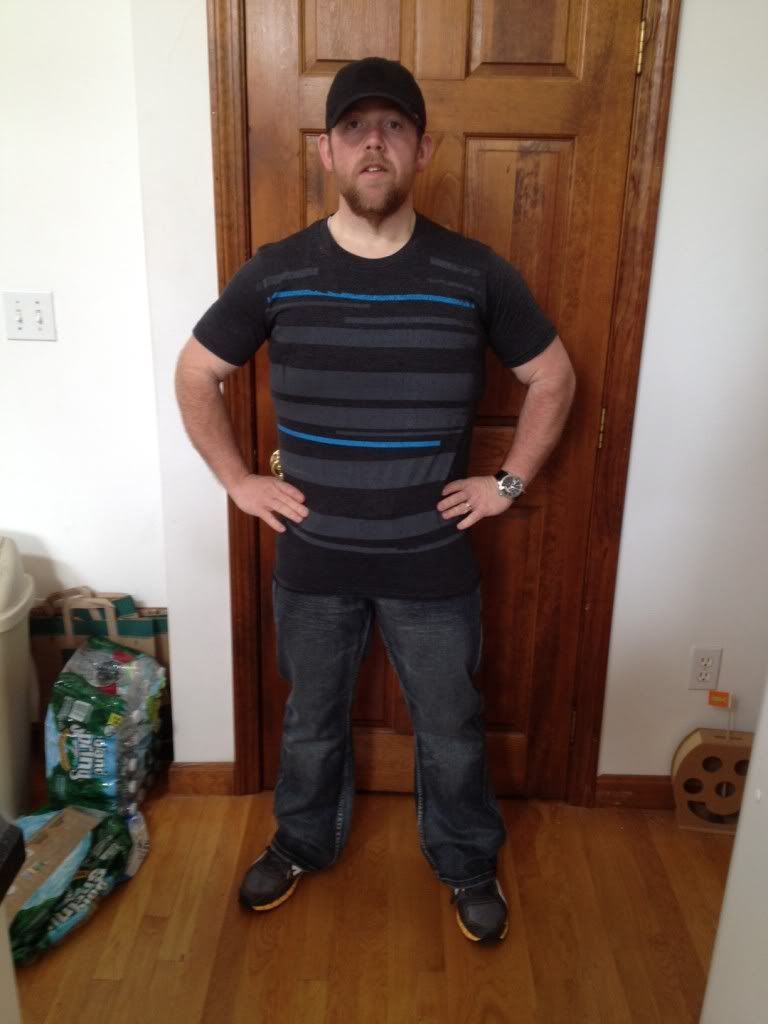 I am sucking it in a little in this pic, just a little though
My newest sneakers, I gotta stock up with 1/2 marathon training coming up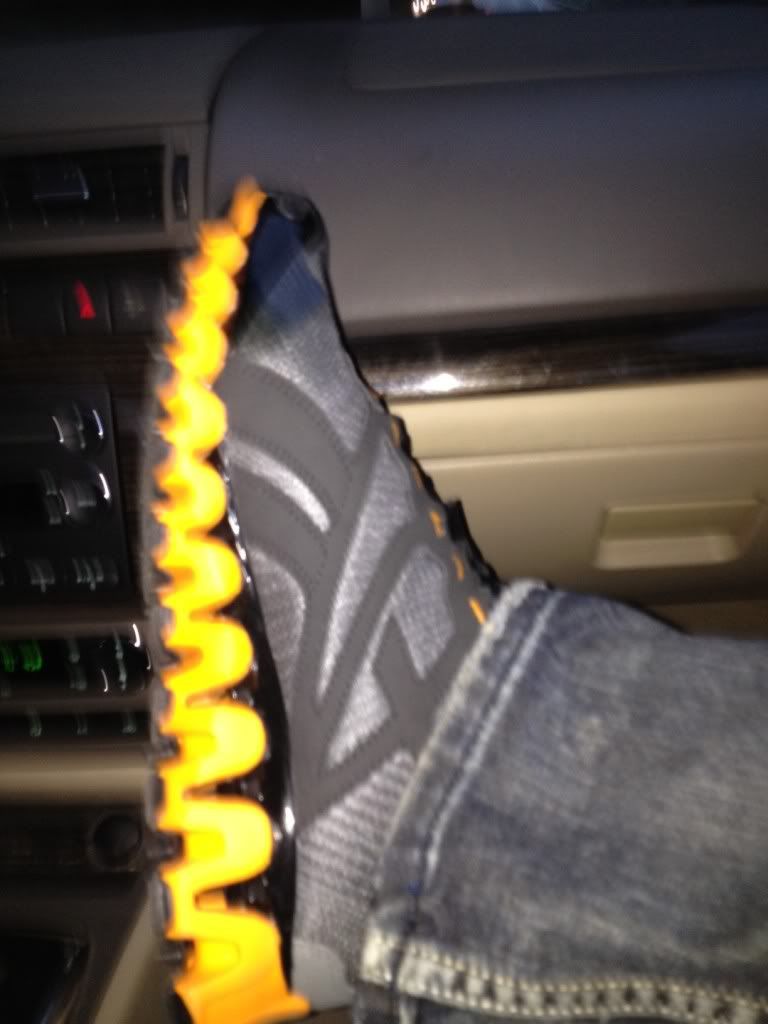 Thank you Honey for turning my terrible sickness into one of my favorite birthday weeks yet. Just being with you the last few days were the trick.