well i did it....i finally cleaned out my closet....the women's 20s, 18s, 16s and 14s i have been wearing or should i say swimming in have officially been replaced with..........drumroll please.............12s and 14s from ALL REGULAR STORES.........no women's departments shopped in today!!!!!!!!!!!!!!!!!!!!!!!!! i shopped at ny&company, ann taylor loft, macy's, jcpenneys and kohls today...
i bought 3 pair of cotton capris, 3 pair of denim capris, 4 skorts (2denim, 1 khaki, 1 RED), 2 pairs of cotton dress shorts, 7 short sleeve size L tshirts (dressier), a size 16 tankini bather and a L coverup, 3 pairs of L workout pants, 4 new XL (i like them roomier) workout tshirts....i tried on 3 very pretty dresses but just didnt feel perfect in them so i passed for now...
BUT the best part of my entire day besides my new full closet is that i now KNOW that no matter what i need clothes for: a dressy function, work, play, workout, casual - i can walk into ANY STORE on ANY CORNER and buy something....there will be a size for me....i no longer have to go to the women's department or special plus size stores....i have not been able to do this since middle school??? i called my mom tonight and asked her what size i was in high school and she said, 18-20???? i wasnt really sure and then i remembered the jeans i have from fashion bug still that i was just recently able to get into that are 20s...the are very very very straight legged with nooooo give/room so they might actually be smaller than a 20 but the label says 20 on it.....i have never in all my memory been a 12 or a 14????? i absolutely feel great....
here a few pics of my closet LOL...i'll add some more later of me in some of the outfits as i put them on...i'll take pics in the mirror each morning until i cycle thru the new loot.....
thanks for sharing with me the end of my amazing day.....you all have been a HUGE part of my most recent success and i will be eternally grateful for all the spectacular support i receive from you guys on a weekly, daily sometimes hourly basis....you guys are DA BOMB!!!!
empty space my old sh*t took up...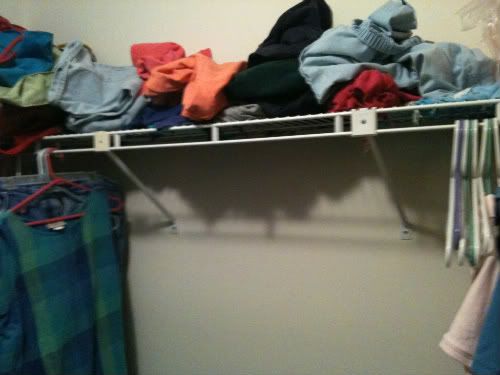 pile for good will with the new stuff on top for my friend helen....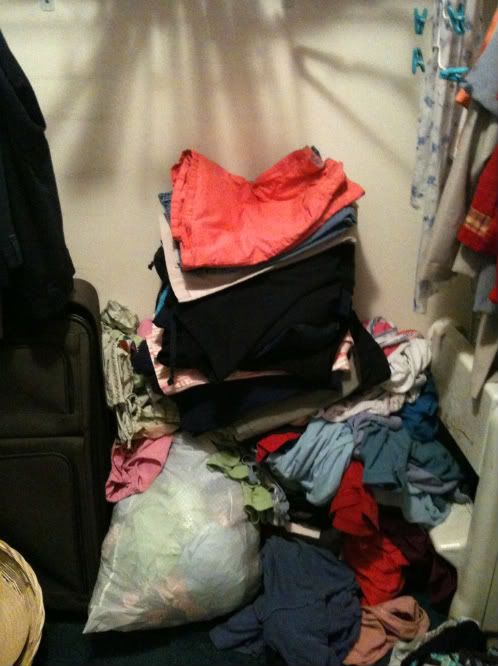 new stuff on the bed ready to be hung up....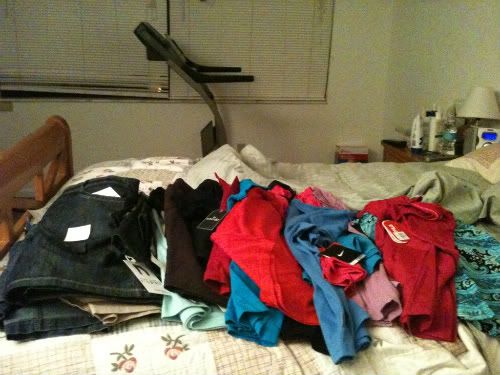 new stuff in the closet....