3 years of MFP, 130 pounds lost! What I've learned...
Posted on 6/16/2014 by ShannonMpls
June 16, 2011.
That's the day I started logging my food on MFP. In hindsight, this was a momentous day though I didn't realize it at the time. I didn't expect this little game to go anywhere. I expected to lose interest but not actually lose much, if any, weight. None of my half-hearted efforts had worked before, why should this one?
But this time was different, because MFP was different. Instead of vague ideas about "eating better," I had a way to quantify it. Instead of following a weird program that told me what to eat and when, I just had a calorie goal to stick to and I could fill it with anything. I had a ticker that would display my weight loss to date so I could see the results of my effort.
But first, I had to weigh myself to see where I started. 308.5. That was enough to make me want to quit before I even got started. I didn't even know what my goal weight should have been, but I knew I had more than a hundred pounds to lose. I couldn't face that; I was embarassed to even have that amount of weight listed on my profile. So I told MFP I wanted to weigh 275. I thought I could probably do that.
So I got to business. It wasn't long before I hit 275, and I kept on going.
On June 16, 2012 - one year later - I weighed 188.5. I lost exactly 120 pounds in one year.
On September 23, 2012, 18 months after starting, I hit my goal weight of 175. [My success story post from the forums is here]
Today, exactly three years from day one, I weigh somewhere in the neighborhood of 173-178, the range I refer to as my maintenance weight. Sometimes I'm a little above, sometimes (rarely! ha) a little below, but this is where I hang out most of the time; a happy, healthy weight.
On this three-year anniversary, I want to share a couple things I've learned that helped me. [my 1000 day post is here.]
1. If you have a lot of weight to lose, don't set out to lose a lot of weight.
Instead, aim to lose 20 pounds. Even if that's all you lose, you will still be 20 pounds lighter and that will make a big difference. I didn't set out to lose 130 pounds, I set out to weigh 275. Then I changed my goal to 250. Then it was 225. Then it was 208.5. Then 199, then 185 - well, you get the picture. Set a series of small, obtainable goals; it's not so hardto eat an elephant if you go one bite at a time.
2. Exercise.
I know people say you don't need exercise to lose weight, and they're right. So don't exercise to lose weight. Instead, exercise to change your relationship with your body and with food. If the only reason you are exercising is to eat more, I think you're doing it wrong. I exercise because I enjoy it, first and foremost. I've learned to love it and I simply feel better when I do it. Running is a mediation; weight lifting is a challenge. Exercise has shown me that I'm an athlete, that I can be graceful, that I am strong and capable. It gives me a place to vent stress. It gives me time in my head in peace. It means that no matter what else is going on in my life, this hour is for me - purely for me. Find what you love and do it, whether it's walking or lifting or swimming. Move your body, and I guarantee that your relationship with it - and the food you eat to fuel it - will change. [See also - Why I Run.]
3. Love Yourself Now.
When I hit goal weight, I'll be happier. I'll love my body. Life will be perfect.

Sorry, that's not gonna happen. Nothing magic happen when you reach an arbitrary goal on the scale.
You have to get right with yourself now. If you don't love yourself - including your body, even if it's fat, even if you aren't happy in it now - it isn't going to *snap!* be better you reach your goal.
I've tried to lose weight out of disgust and it didn't work. It didn't last. It didn't click. This time, my decision to lose weight was not motivated out of self-hatred, it was because I was uncomfortable in my own skin and felt that my body was holding me back from the adventures I wanted to have. I felt like I deserved more.
So work - now - to make peace with who you are. If you're not happy with things, change them, but motivate it from love for yourself and a desire to live a happier life, not to obliterate who you are. You're beautiful now. It's okay to strive for more; that is downright required to make change in my opinion. But know that you're good enough already. [Related post - Donating Clothes, Sorting Emotions.]
4. Don't Get Lost in the Details.
Those MFP forums can sure get....intense, huh? Low carb, high protein, weigh everything you eat, eschew artificial sweeteners, only lift weights, do this, don't do that.
I'll let you in on a secret: most of that doesn't matter all that much.

The most important thing you can do is start. Then don't stop. Starting for you might mean simply logging your food regardless of a calorie goal, or sticking to a calorie goal, or trying to get in 10,000 steps a day. Making a series of small changes, and then sticking with them, makes all the difference.
Here's a little story. Way back in the summer of 2011, I had a couple MFP friends who were having amazing success, but they'd do things like eat 1200 and burn 1500 from a ton of exercise. Or they'd insist that a fruit salad was what they wanted for dessert instead of a slice of cake on their birthday. They'd stick to super rigid calorie restrictions, and eat the same thing every day.
That didn't sound fun, but despite that, I was aching with jealousy. They were losing more than I was. I thought about changing how I was doing things, exercising more, eating less. But then I remembered Dr. Yoni Freedhoff's advice - "live the healthiest life you can ENJOY." I stuck with my plan - tracking calories, exercising, and not much else in the way of details.
Well, three years later, guess how many of those MFPers I'm referring to hit their goal weight at all, let alone are still maintaining it like I am? Spoiler alert: None.
My point is - perseverance is what will make you successful. You can play with macroratios and meal timing and fasted cardio. That might affect how quickly you lose, or how easy it is to stick to your plan.
But the most important thing is simply to start.
5. Don't Let Perfect Be the Enemy of Good.
There is a lot of chatter on the forums about how you need a food scale and MUST weigh everything that goes in your mouth, and to never use generic database entries, and that you absolutely have to have a heart rate monitor to record exercise and if you're not doing things perfectly, you might as well not be doing them.
Wrong. Doing something is always better than doing nothing.
I do use a food scale most of the time. I log really accurately whenever I can. But sometimes I eyeball portions. I do not bring a food scale to restaurants or friend's house. I simply log the best I can.
And that's okay. If you're at a place where you're not losing as much as you'd like, that's the time to buckle down and work on more accurate logging. But you don't have to log 100% precisely to lose weight.
Similarly, you don't have to stick to your calorie goal EVERY DAY FOR THE REST OF YOUR LIFE. Fit, thin, healthy people indulge on a holiday...then they go back to normal eating. Fit, thin, healthy people do not feel guilty for having a slice of homemade cake on their birthday, or going to a special restaurant to celebrate a special occasion.
I bring this up because it was such a sticking point for me and kept me from starting. I don't want to be perfect! I want to go on vacation and eat what I want! I want to eat at amazing restaurants sometimes! I don't want to log every morsel I eat forever and ever!
I let the idea that I must be perfect stop me from simply being....better.
Another trap we fall into is striving so hard for perfection that we let little slip-ups derail us. If you make a choice you wish you hadn't for breakfast, go off the plan for lunch, do you have a tendency to just throw in the towel and think "I'll do better tomorrow/Monday/next week?" I know I do. But if I remind myself that a few less than stellar choices cannot undo an entire week of great ones, it's much easier to stick with my plan going forward. I don't let a bad day turn into a bad week. [Related post - Eat badly yesteday? Miss a Workout? Get over it.]
You don't have to be perfect, okay? If you stick to your amazing plan 50 weeks a year, two weeks of eating a little too much is not going to make a difference. I'm living proof of this as I maintain. I feel like I've uncovered a big secret: Be awesome most of the time, and it's okay to have fun the rest of the time :)
6. Make MFP friends.
The social aspects of MFP have been a lifesaver. Some of my friends have been with me since month 1. I am consistently uplifted by their support and love. We share recipes, tips, cheer each other on. I feel like I have another family. Without this support net, things would have been harder...and less fun. Use the resources here, including the amazing community - people who will watch your back and make you laugh. Thanks, friends - I love you all.
That's it for now. My life has improved by leaps and bounds since I signed up for MFP three years ago. I'm more driven, confident, and adventurous. Sure, I wear a smaller size, but the scale does not reflect the most important changes in me.
Thanks for reading :)
I suppose I should add a picture since that is usually what people want to see!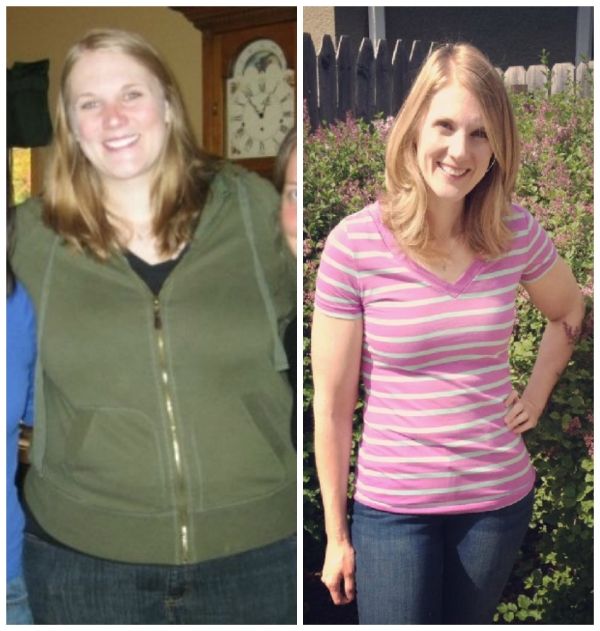 (old after picture from last year, but the beauty of maintaining is that I still look the same. Just with longer hair).



65 comments: